Projects Gallery place as inset Block
ACLU
DEFENDERS OF FREEDOM
Developed and produced for the American Civil Liberties Union to dramatically illustrate the Bill of Rights in real-world context. The project was structured as a 6- book series, with each 32-page full-color book featuring two stories that highlighted one Bill apiece.
Handled creative teams and coordination with ACLU attorneys, budgeting, project management and scheduling, and printing.
Viacom Global Publishing/DarkHorse
A&E Television Networks/Zenescope Entertainment
MANKIND: THE STORY OF ALL OF US
Editorial services and project management on 2-volume graphic novel series based on the epic History® miniseries. Hired and managed 12 creative teams, coordinated all stages of approvals and production with client partnership.
"A comics anthology that in many ways transcends the form...a consistent, exquisitely illustrative visual style and a commitment to the high production values shared by the TV series." — Broken Frontier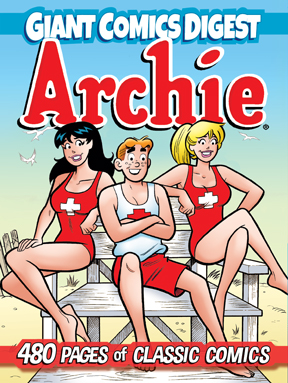 Archie Publications
Pageturner provided cover design and production to a new series of collections and digests for one of the most icon of comic characters, and his inner circle of sidekicks.
Chronicle Books
ROADSTRIPS
Developed and sold a 144-page graphic anthology to Chronicle Books. Assigned and managed 28 artists/writers, who created specific thematic stories for this 144 page graphic anthology.
Handled all editing, scheduling, and project management and completed the book on time and on budget.
Disney Press
A CHRISTMAS CAROL
Cover design, interior design and art direction for the official adaptation of Disney Studios' "A Christmas Carol".
TBS Network / Turner Broadcasting
KING OF THE NERDS
Poster design in conjunction with The Bonfire Agency, for upcoming reality series King of The Nerds, hosted by Robert Carradine and Curtis Armstrong, debuting January 2013 on TBS.
Ocean Recovery Alliance
THE G.E.M. CONCERT PROJECT
We created an avatar to support G.E.M's environmental efforts on her concert tour. Creating comics-themed character designs, storylines and distribution/marketing strategies for environmental nonprofit's multiple global initiatives.
Developed Properties
A RUN FOR THE MONEY
Pageturner developed this wonderful children's book property teaching financial literacy through a lively and exciting adventure. We attached the wonderful illustrator Sally Gardner to this project.
Girl Scouts of the United States
IT'S YOUR STORY—TELL IT!
A six-book series fully art-directed, designed and packaged for Girl Scouts of America, using over 20 illustrators. Handled all scheduling, and project management and completed each 96-page book in an aggressive 4-month timeframe, meeting all deadline and budget targets.
Advance sales were so strong, the book entered its third printing before the first printing hit shelves.
Farella Braun
IN LOCO RECRUITUS
We created a 24 page book full of comics and activities showcasing the creativity of our client Farella Braun to their recruiting efforts. Featured art by Bob Camp, Marcos Sorensen, Bob Fingerman and Lloyd Dangle.
FORBES MEDIA & JESS3
ZEN OF STEVE JOBS
Editorial services provided for Forbes Media's first graphic novel in conjunction with the multimedia design firm JESS3. Handled art and story review on a tight schedule for an innovative biography of Steve Jobs focusing on his lifelong studies with a renegade Buddhist monk, and the relationship's influence on his design skill.
DC / Vertigo
IT'S A BIRD...
Conceptual cover design and typography services for this fascinating look at the life of Superman.